Lithium Storage also contributes to the transition toward green public transportation, offering fully electric zero emission non-polluting lithium-ion battery system solutions for buses. Our Flexi pack C&D composed of various combinations of LFP205Ah, LFP230Ah, LFP280Ah, and LFP302Ah lithium iron phosphate cells is our main basic standard battery pack solutions recommended for battery systems of electric buses because this pack has been applied in China electric buses projects in high volume, including electric buses projects of CRRC, YUTONG, KINGLONG etcetera.
There are the following examples of lithium-ion batteries for electric vehicle solutions by our Flexi packs as the reference: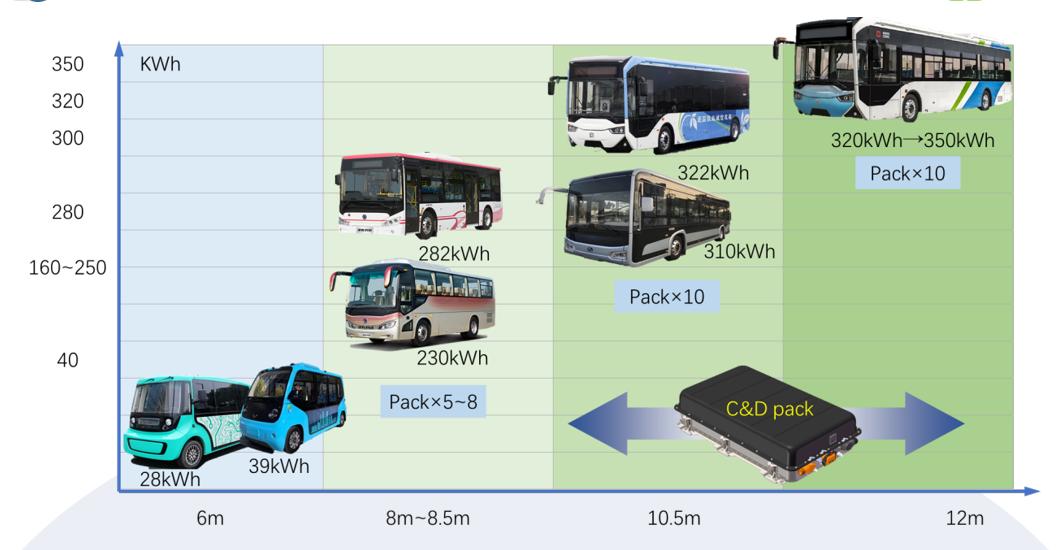 Lithium Ion Battery for Electric Bus Benefits
Using lithium-ion batteries for electric buses offers several benefits compared to other bulk lithium battery types or traditional internal combustion engine buses. Here are some advantages of lithium-ion batteries in electric buses:
High Energy Density: Lithium-ion batteries have a higher energy density compared to other battery technologies. This means lithium-ion batteries for electric buses can store more energy in a smaller and lighter package, allowing electric buses to have longer driving ranges without sacrificing passenger capacity.
Longer Driving Range: The high energy density of lithium-ion batteries enables electric buses to travel longer distances on a single charge. This makes lithium-ion batteries for electric buses suitable for various routes, including those with higher demands or longer distances between charging stations.
Faster Charging Times: Lithium-ion batteries for electric buses can be charged at a faster rate compared to other battery technologies. Rapid charging capabilities allow electric buses to spend less time at charging stations, increasing their overall efficiency and reducing downtime.
Improved Performance: Lithium-ion batteries provide high power output, enabling electric buses to accelerate quickly and handle steep inclines with ease. Lithium-ion batteries for electric buses offer better performance in terms of power delivery, responsiveness, and torque compared to traditional internal combustion engines.
Reduced Environmental Impact: Electric buses powered by lithium-ion batteries produce zero tailpipe emissions, significantly reducing air pollution and greenhouse gas emissions. This makes them a cleaner and more sustainable alternative to traditional buses, contributing to improved air quality and mitigating climate change.
Quieter Operation: Electric buses running on lithium-ion batteries operate silently compared to diesel or gasoline-powered buses. This reduction in noise pollution can enhance the comfort of passengers and reduce noise levels in urban environments.
Lower Operating Costs: Electric buses powered by lithium-ion batteries have lower operating costs compared to their conventional counterparts. Electric buses require less maintenance due to fewer moving parts, no oil changes, and fewer fluids to monitor. Additionally, the cost of electricity for charging is often lower than the cost of diesel or gasoline fuel.
Regulatory Incentives: Many regions and governments offer incentives and grants to promote the adoption of electric buses, particularly those utilizing lithium-ion batteries. These incentives can help offset the initial purchase and installation costs, making electric buses more financially viable for transit operators.